Liz McCabe
Assistant Professor of Instruction
PhD, Northwestern University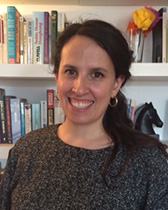 Liz McCabe is lead faculty member in Chicago FIeld Studies, where she has taught a range of courses quarterly since 2009. Currently she teaches Field Studies in Humanities—on the cultural history of office work and representations of white-collar labor—and Field Studies in Civic Engagement, a course that explores civic life through the lenses of Chicago history, political theory, social justice, and non-profit work. Additionally, Liz leads and supports the CFS instructor cohort, mentors new instructors, advises students, and contributes to the administration of the program. A Faculty Fellow of the Northwestern Center for Civic Engagement, she currently serves as Instructor and Academic Coordinator of Engage Chicago—the Center's immersive civic summer program for undergraduates. She is also an active Faculty Fellow of Chapin Hall, the Humanities Residential College on campus.
 She holds a Ph.D. in English from Northwestern and completed her doctoral work on evolutionary anthropology, cultural theory, and Victorian fiction in 2013. In the English Department, she has taught courses on Expository Writing, Victorian Literature, and, most recently, representations of murder. She is currently researching the cultural history of internships and writing about the value of arts and literary education in experiential- and service-learning curricula.
Liz co-founded the NU Public Humanities Colloquium on campus in 2013, to support graduate students pursuing public humanities work. Off campus she served as the Chicagoland Coordinator of Poetry Out Loud, the national poetry recitation contest for high school students, from 2008-2016, working with the Illinois Arts Council and the Poetry Foundation on behalf of Literature for All of Us, a Chicago nonprofit where she now serves as a board member. She is also a member of Chicago's Teachers for Social Justice group, a participant of the campus Change Makers program through the Northwestern Women's Center, and a trustee of the Salt Tree environmental arts project in New York.
Back to top